It goes without saying that it's not easy to win the Spiel des Jahres, widely accepted to be the biggest prize in board games. The German game of the year award, which has been handed out annually since 1979, sees a jury of board game critics trawl hundreds of entries to find what they believe is the most rewarding family-friendly game on the market.
With that kind of competition, most publishers would consider themselves lucky to win once in a decade. So how has Pegasus Spiele, the Friedberg-based publisher launched by two friends in 1993, managed to seal the prize five times in the past ten years?
"If I did it [solely myself]", Pegasus co-founder and co-CEO Karsten Esser told BoardGameWire, "we would probably sign too many things. The truth is, I believe we have a very good staff here at the company.
"The editorial team is in general outstanding, they do an outstanding job – and of course, it helps them that they have owners that are very flexible. They kick around ideas, they are coming up with candidates, and they get very quick answers, whether yes or no – and that helps them to go through a bigger pile of titles.
"And of course, if we are in competition with other publishers, we usually get quicker answers out there. And this could make a difference on the hot titles and the good titles, to get them.
"But of course, we have formed sort of an alliance, if you see it that way, with publishers or publishing companies, smaller publishers that we had from the very beginning – a feeling that they have excellent average of games they publish, a clearly very high above average level of titles they publish. And this is of course also reflecting then on Pegasus."
Pegasus, which is celebrating its 30th anniversary this year, started life as a fantasy store in 1993, with Esser and fellow co-founder Andreas Finkernagel also forming an on-site gaming club and even a magazine for its members.
The company found a new gear a year later by expanding into publishing, licensing RPGs such as GURPS by Steve Jackson Games – and then scored a big success as an early adopter of Magic: The Gathering, before losing the distribution rights four years later amid a restructuring at Wizards of the Coast.
Esser said, "Steve himself was the person that helped us to acquire the Magic the Gathering distribution license – without him, I don't think we would have gotten it.
"And then yes, of course, after the trading card hype, we looked for other areas. We were doing Munchkin, we were doing Return of the Heroes, and we were focusing more on card and board games.
Pegasus found its first Spiel des Jahres success in 2009, after picking up the German publishing rights to a game by then-little-known designer Matt Leacock. Pandemic, which has since become one of the most successful co-op board games of all time, was a game-changer for the business according to Esser.
"It took some years, as you can see, from there till our first [SdJ] nomination with Pandemic, to develop the company in that direction, but we managed.
"And I would say, since we started to achieve a level that was high enough – I would see Pandemic there, really, as game changer… then, we just became better and better, and more and more successful."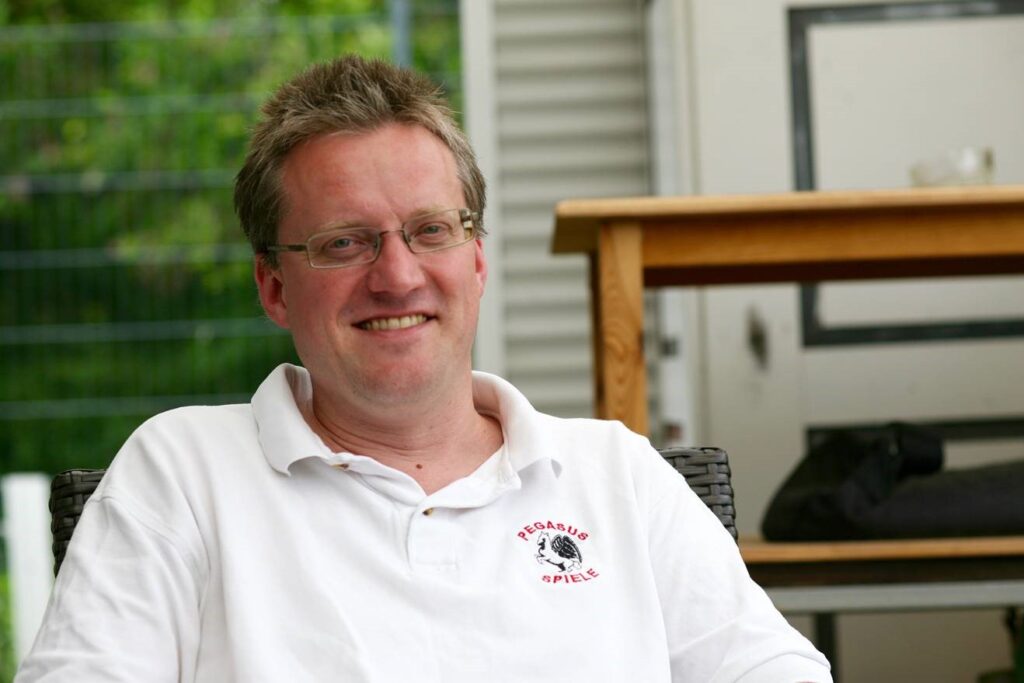 Pegasus won the Kennerspiel – the Spiel des Jahres 'connoisseurs' award for more complex games – with Village in 2012, before winning both the main prize and the Kennerspiel two years later with Camel Up and Istanbul.
The company won the Spiel des Jahres again with Kingdomino in 2017, Azul in 2018, MicroMacro: Crime City in 2021 and Dorfromantik in this year's awards, as well as picking up the children-focused Kinderspiel award in 2021 and 2022's Kennerspiel with Living Forest. Some of those wins were in partnership with smaller publishers such as Edition Spielwiese and Eggertspiele, underscoring the 'alliance' model Esser mentions above.
Esser was keen to make its clear that Pegasus had not become a savant in picking Spiel des Jahres winners by second-guessing which category or style of game was popular in a particular year – and he also joked about big name board games the firm had overlooked, which include current BoardGameGeek number 3-ranked game Gloomhaven.
He added that despite the firm's impressive track record of SdJ successes, getting hold of this year's eventual winner was a case of Pegasus chasing down designers Michael Palm and Lucas Zach, rather than the other way round.
Esser said, "Usually if something is very successful [such as the Dorfromantik video game the board game is based on], they will eventually check and see, you know, 'are there chances for us to make more profit if we license things out?'
"In the case of Dorfromantik, it went a little bit different because the app was already very successful – and we noticed that it was very successful. And the game designers, Michael Palm and Lucas Zach, were regularly working for us, they have done many games with us, and they are regularly here at our HQ visiting us.
"And we chased them, you know, working the other way around: 'this is an interesting IP, why don't you go and chase them and see if they would not be interested to do a board game?'.
"So we worked the other way around, and as you can see, we've been quite successful with that route. And of course, there was a chance, theoretically, they could have signed with somebody else in Germany as a publisher.
"But since we have been talking with the game designers from the very beginning, and we are happy with them, they are happy with us… there was no bad feelings anywhere, so why would you sign for somebody else?"
Winning the Spiel des Jahres can act as a sales explosion for a particular board game – while companies tend to keep tight-lipped about actual sales figures, Esser confirmed a game winning the award can put on hundreds of thousands of extra sales in the months following, due to a slew of exposure across mainstream shopping outlets.
He said, "How many would you sell without the Spiel award? Maybe 5% of that, maybe 10% of it – even if it was a really good game. It is a huge difference.
"In Germany, we say it's a curse and a blessing. The blessing is that you have all these department stores, all these chains, bookstores and whatnot, that will jump on the marketing train of Spiel des Jahres – you know, that everybody wants a gift for Christmas.
"So they will use the title to lure customers into their shops or on their websites or whatnot. And that brings a lot of traffic, this brings a lot of sales.
"At the same time, usually – and we have seen this on the energy crisis, you know – if the demand is very high, then usually the price should increase. With Spiel it is always that the price is dramatically decreasing because the demand is high, because out there they want to use it to get the people into their store, and that means we have to have it cheap, cheap, cheap, you know. And that's a little bit like a curse.
"We could of course earn more money on the long run and retailers could be more happy, you know, there could be a lot more happy people out there if it was not such a pressure on the prices for the game. Of course, knowing that the low prices bring extra sales, it's still… it's playing with the knife."
Despite Pegasus' success at picking award winners, Esser said its rising profile had also put something of a target on its back, with other companies attempting to "fish in its ponds" to discover the next great German game – and he added that the huge surge in the size of the board game industry in recent years was causing its own problems.
He said, "When we look at Essen now, it's clear that there are too many games being published. But the challenge, and that's a challenge that we have to face as well, is we have always make to make sure that we are in the upper half, in the higher end of the table, where the better games that are being published, the most successful games are located.
"But it's normal, you know: it's an industry… where it appears to be pretty easy to be successful. And the truth is, there's people that can be lucky and can have a somewhat successful title, and then stay with that for quite a while. But maintaining a high successful level – that's the challenge we are trying to master."
Pegasus' latest Spiel des Jahres win comes after a difficult few years for many board game publishers, with office work and supply chains devastated by the coronavirus crisis, followed directly by governments attempting to put a brake on spending to combat runaway inflation.
Esser said, "2022 was a really rough year for most publishers – I think in Germany it was especially rough, because some of the problems that we had in Europe were just a bit more intense in Germany than in other countries, where maybe other governments managed the times better.
"So for some reasons, the crisis was just a bit more traumatic over here… if you want to put it in a priority then, of course, the most important was the supply chain management.
"That's been going back from 2020 and 2021, when we had to wait many months till we would actually receive the product.
At Essen 2021, I know we had more new releases not arriving than actually were arriving, just to give an example. And in 2022, by the end of January – that's an example I like to use – when our head of board game publishing was talking with the printers, you know, 'what's the deadline? When do I have to send files in?', and looking for Essen, obviously, so already nine months ahead… you could give birth to a child in that timeframe. He was laughed at because the answer was, 'ah Essen, did you mean Essen 2023 or did you mean Essen 2022? You know, Essen 2022 might be difficult now' – that that's the sort of answer he got.
"In Germany, we have saying – he was 'riding on high horse', you know? They had the monopoly, all the books were full, they were controlling who would they accept orders from… and just nine months later, actually, the same exhibition that we are talking here in the example, the same printer had three rounds of layoffs at that time already.
"And in the meeting in Essen they were telling us 'do you have still orders for us in Q4?' We can deliver within four weeks, maybe six weeks?' It's like you're feeling like you're in a different universe.
"And that shows you how difficult it was to navigate the year 2022, because our biggest problem really was that we tried to make it better than the years before – we really wanted to have product in Q4, in Q3 of the year, not like the year before. So we actually did order all our products very early.
"And then the Ukraine war started, then the energy crisis started, then the inflation started. And then the people, they were loaded with worries all over the place. In Germany, we had in February… where it was before mandatory to allow the employees to work from at home, this was over. All of a sudden people were driving to their companies again: yielding less time they had, free time to play games, etc. So we were also losing in time that the people have to play games."
Pegasus also had to contend with ballooning raw materials costs for items such as paper and card, trying to balance keeping production going while knowing some of the costs would inevitable have to be passed on to consumers.
He said, "Here in Europe… the number of companies that are responsible to deliver the raw material to make paper is very limited – it's less than a handful of companies… and the price increase was up to 70%.
"…and you can see this is also a problem in the whole picture. I cannot turn around and say, well, this €25 game is now costing €40, you know, because we had had some price increases on the paper. But it looked that way for some card games, for example, where we had maybe a production price of €3, €4, we now all in a sudden had a price of €6. What do you do?
"We worked on the print buying there, and looked for alternative resources to not take the full impact of that. But that's just another example, you know – if there is one thing going bad, it just happens too easy that everything that's around it, the whole game around us then is collapsing, because one influences the other and the problem is becoming bigger and bigger and bigger.
He added, "So we are coming from a rough year, not knowing what to expect in 2023, hoping to see some sort of recovery and more stable business. And I would say for the past couple of months, it seems like this is really happening.
"Of course, it's difficult to see through Pegasus' eyes the average business of our industry – I mean, we are usually an above-average performer, we have Spiel des Jahres this year again, so that's, of course, some colours that make the picture looking more bright than it usually would. But for us, I would say, yes, it's looking better, but slowly, very slowly."
Esser said inflation and consumer spending cuts remain an issue, but the company is beginning to gently explore expanding its workforce again – in addition to completing construction of a giant new office and warehouse building next to its existing headquarters in Freidberg.
He said, "For 2022 our goal was – and that's what we did – we did not lay off any people. I mean, that was really difficult enough, and that could only happen because Andreas and myself, we own the company.
"We are not a hired CEOs, we don't have to deliver good numbers to some owners, or shareholders. So basically, if we meet and decide, 'this is not such a good year', maybe we'll take a loss, maybe we won't take a loss or maybe we will just not make a big profit this year' – that's it, we can live very easily with it because we have enough weight.
"On the other hand, that's of course not something that you can let go for too long. But for 2022 our primary goal was: we don't want to lay off people. Because we have seen it in too many examples during the corona times. If you look at restaurants, events, even at the airports everywhere, people were laid off, then one or two years later… incredibly high bonuses were being paid just to find people that will do the work. And that sounds to me very stupid, you know, that's really the point where you're afraid of your shareholders, you're afraid of taking responsibility. And that's what I said – we are a bit easier here.
"Now for 2023 our primary focus is to get into more calm waters. And yes, we have an eye open on hiring people, but it's not like we are standing there and trying to get people wherever we can. In a very small format we are we are looking for people, but it's not like we're in a hurry, you know? And if it's not happening this quarter, but next quarter or in January, that's all fine."
Esser said marketing and events staff were at the head of the queue in terms of new hires, alongside warehouse workers for its new office building and warehouse – dubbed Pegasus 2 – which is due to be completed early next year.
The decision to launch that construction project came in 2021, in the wake of several years of double-digit growth – and with a pressing need to accommodate extra staff coming back from mandatory home working, as well as to build some cushioning to prevent the kind of supply chain issues that had blown up amid Covid-19.
He said, "It would have been getting very crowded in the company if we did not do it. Overall, would I push the same buttons two years later? I don't know – with way more worries than I did in 2021.
"But the truth is also, office space… it's not terrible, but a few more rooms would be really nice. But on the warehouse situation, it is much more important that we have the extra space.
"For many industries it has become obvious that the 'just in time' deliveries that you had been used to before, many, many will tell you these times are sort of over now, we have to make sure that we have stock for a longer range of time.
"And then of course, we need more inventory… you have all these super successful titles, like MicroMacro… then you have Dorfromantik, there's Dorfromantik Duel – the portfolio is becoming bigger and bigger as well. And that also has to reflect somehow in the warehouse, we can not keep the same stock as five years ago."
Pegasus expansion in the last few years has also extended to North America, from which the company has stopped importing games in favour of becoming an exporter itself through its Pegasus North America distribution arm. But any further expansion across Europe or into other global markets appears off the table for now.
Esser said, "We decided to stop importing games from the US, and the reason is mostly not because we were tired of the business relationships.
"The truth is more we were tired of the trade war between the US and EU, that were putting too many obstacles, too many hurdles into play for us to import games from the US."
"…the biggest market is the English speaking market, and then French and German speaking markets are coming up very closely. But English market is most important.
"That's why we have Pegasus North America and I can tell you, that's a challenge that's big enough. We are just humans, we are not gods and there is plenty we have to do with these challenges."
The next challenge for Pegasus, of course, is finding the game that wins Spiel des Jahres in 2024 – but with their track record, don't bet against them doing it again.