Board game designer Joe Slack taps knowledge acquired through his four successful Kickstarters to provide some guidance on running a strong crowdfunding campaign. He talks knowing your numbers, how to spend a marketing budget and why building an audience before launch is key to clearing your targets.
I've been designing board games for almost ten years now, including doing this full-time for the last five years. In that time, I've had several games published with other publishers and have run numerous Kickstarter campaigns as well (not to mention writing four books and developing three courses related to game design).
Nearing the end of my fifth Kickstarter campaign, I thought it would be a good time to look back and reflect on how my strategy and approach to Kickstarter have changed over time and what I did differently on my most recent campaign.
Early Mistakes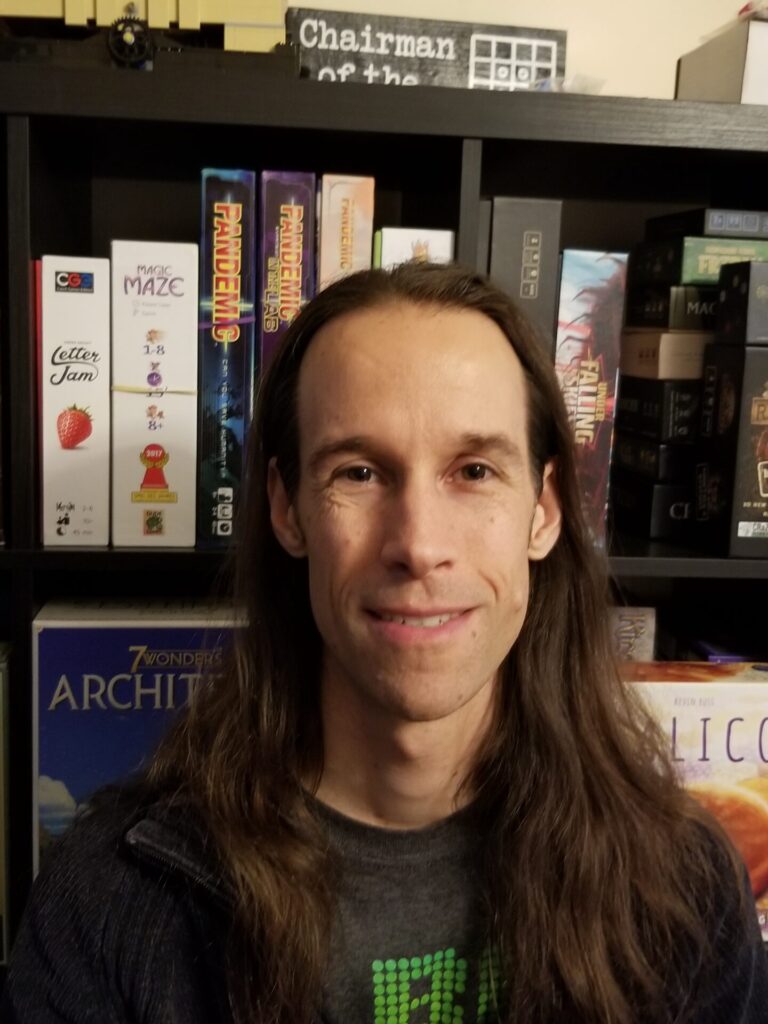 Each of my last four Kickstarter campaigns has done very well, hitting their funding goal quickly, with three of them reaching this in under four hours. My first foray into Kickstarter wasn't quite so successful though. The first game I ever created, Cunning Linguistics, wasn't my best game. Having designed tons of other games since then, I can look back and see that I've come very far as a game designer.
But it was my baby. I wanted to give Kickstarter a try and see if this game could be successful. Well, it was far from a success but at the same time, it was a great learning experience. You always hear how important it is to build an audience before you launch your game. While I had read this many times and certainly believed this sentiment, I didn't put as much effort into this as I should have – and it showed. The game didn't come anywhere close to reaching its funding goal and I decided to cancel the project. It taught me that there wasn't a market for this game and that there was a lot I still had to learn about crowdfunding.
What I learned from this experience, however, helped me tremendously in my next four campaigns.
Applying My Learnings
For my next game, Relics of Rajavihara, I knew I had created something special. Unlike a generic party game in an already saturated market, I now had a puzzly solo adventure game that was reminiscent of old-school video games like Adventures of Lolo, Fire and Ice, and portions of the Legend of Zelda. It was very tactile and different from other games out there.
I had previously learned about a couple of solo gaming Facebook groups and had become part of these communities. There was lots of great discussion about solo games and it became the perfect opportunity to talk about my own game and get the community involved and interested in it.
I hadn't determined the theme for the game at that point, so I posted a poll in the group and there was a clear winning direction. I ran with this and developed the game around an adventure theme, similar to Indiana Jones. As my art was coming in, I shared this as well as other aspects of the game in these groups and elsewhere, gaining a lot of interest before I launched. I also demoed the game as much as I could.
Through a combination of having a unique game, great art and graphic design, and building an audience, it was a success, hitting its funding goal in just four hours, going on to raise C$63,360. I was very happy with the success of Relics of Rajavihara and continued to use the learnings from this and my previous campaign to continue to find success on Kickstarter with my subsequent projects.
A Blessing or a (Mayan) Curse?
We knew our latest game, Mayan Curse, was ready for Kickstarter. We had been playtesting and refining it for years and had finally landed on the best possible combination of puzzly-ness and gameplay. Players were really enjoying the game and it had an amazing table presence, especially after the addition of Miguel Coimbra's (7 Wonders, Small World) beautiful art and Mitch Morris' (Gamewright, Buffalo Games) amazing graphic design.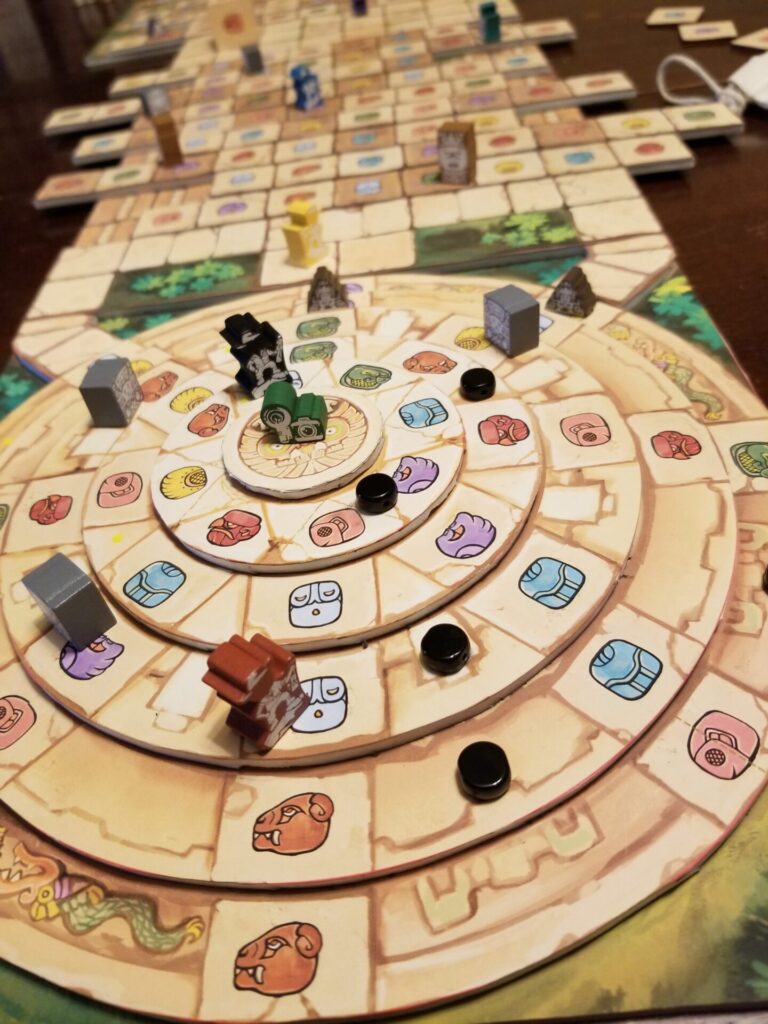 The sliding slabs, rotating temple, oversized boulders, and general look and feel of the game were all big selling features. It also didn't hurt that Mayan Curse had a similar adventure vibe to Relics of Rajavihara, so we could lean into this and attract previous backers to this game as well. We took a similar approach in sharing images of the game and gameplay videos online and on social media, but decided to focus more time, money, and energy on advertising than we had on previous campaigns. Most of the advertising budget went towards Facebook ads, particularly to grow the pre-launch e-mail list, but we also decided to run ads on BoardGameGeek for the first time as well.
In addition we ran two contests, each including giveaways for the game. The one we ran on our own had just under 900 entries. The other was run by a gaming group that approached us – the results were only about 60 entrants, but it still garnered some attention.
Our Facebook ads were very effective, particularly in building up the pre-launch e-mail list once we dialed into the right audience, imagery and message. Unfortunately, it's difficult to accurately gauge the effectiveness of ads during the campaign, as it is felt by many creators that Kickstarter doesn't accurately track all referrals. We've had a decent number of backers come from Facebook and BGG, although not directly from our ads (according to the stats). It may be that Kickstarter just didn't track these well and some backers did click on the ads and it wasn't credited there, but it is hard to say.
Social media as usual led to a reasonable amount of engagement, and considering there's no cost to this it's definitely a great method to continue to use. As for the ads, I would continue to utilize Facebook ads pre-launch, as well as test them out during the campaign and continue to run them if it is helping the campaing. However, I might shy away from running BGG ads in the future.
Helping Hands
Collaborating with reviewers and other content creators was also helpful in getting the word out about Mayan Curse. While we did provide reviewers with direct referral links, only one backer has come from all of them combined according to Kickstarter stats, which we also have to question. But if people watch videos about your game and this gets them interested enough to check out your Kickstarter page, then they're doing what was intended, and they are worth the cost and time to ship prototypes out.
These content creators often have a bigger audience than you, so having them talk about your game or run a playthrough will help bring even more people to your campaign page. Also, we feel that engaging with a cultural consultant for this game was really helpful. Alostor Guzman helped us to identify ways to make the game more authentic to Mayan culture, which we wholeheartedly implemented, and what to avoid so that we wouldn't have any missteps. They identified appropriate symbology, cultural references, and key parts for the back story that were super helpful.
My Advice If You're Thinking of Crowdfunding Your Game
I always love to share my knowledge with others so that they don't have to make the same mistakes I have, so let's talk about a few things to keep in mind if you're planning on running your own crowdfunding campaign.
Crowdfunding has changed. Ten years ago, you could come to Kickstarter with an idea and a dream. You could share this and find a bunch of people to help you make your dream a reality. Now, you have to have a fully developed game with beautiful art and unique gameplay. It's no longer a handful of board games up there, it's literally 5,000-plus per year. The barrier to entry is very low. Remember, you'll be competing against not only other indie creators but also big-name publishers as well.


Building an audience is crucial. I can't stress this enough. You need to build up an audience before you launch your campaign. You need to have a critical mass to get you funded quickly, then others will start to hear about your game on the platform. E-mail is king. Get anyone interested in your game to sign up and keep in touch with them to share more about your game and let them know when it launches.


Know your numbers. If you don't know how much it will cost to get your game manufactured and shipped all over the world, you're going to be in trouble. Same with the amount of time to do all this. It's easy to underestimate just how much time and money is required to create and deliver a physical product. So, work closely with experienced manufacturers, shipping and fulfilment companies, artists, and others to understand your costs and timelines so that you can provide your backers with an accurate amount you'll need to raise and how much they will need to contribute to receive a copy of the game you've been working so hard to get out into the world.
Running a Kickstarter campaign can be stressful, terrifying, and anxiety-inducing. But it can also be heart-warming, exhilarating, and very exciting! It's all up to you in your preparation and readiness. I hope you found this article interesting and helpful!

Joe's latest board game, Mayan Curse, is on Kickstarter now – check out the campaign here: https://www.kickstarter.com/projects/crazylikeabox/mayan-curse