Do any job for 15 years, and it can end up feeling a little stale. That even goes for board game design royalty – and was the position 7 Wonders and Hanabi creator Antoine Bauza found himself in last year.
He told BoardGameWire, "I began to be a little bored by designing games… there are so many games out there now – I have this feeling that everybody is making games now.
"It was fun 10 years ago, because only a few made games, but now everybody's doing games. So I think I just wanted to not be part of all the people doing the same thing. I made something like 40 or 50 games, and just wanted some fresh air."
Luckily, Bauza was not alone in his desire for something new. Thomas Provoost, the co-founder of 7 Wonders publisher Repos Productions, was also experiencing itchy feet, three years after selling the company he co-founded in 2004 to board game giant Asmodee.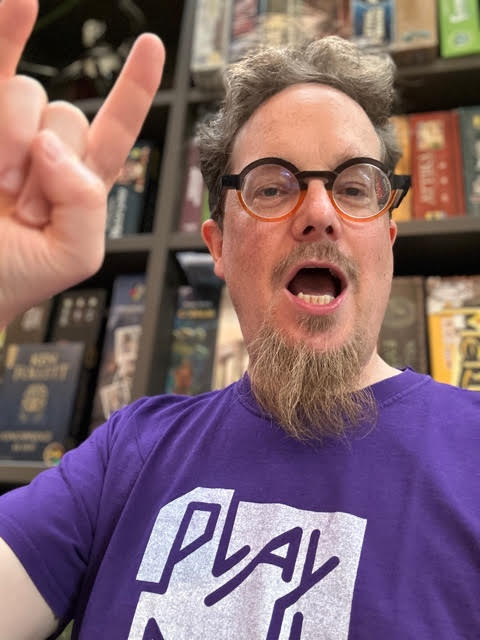 The pair have long been friends, having worked together on titles including 7 Wonders and Bauza's 2008 design Ghost Stories, and would frequently talk about newly released games, what they liked, and what they would have done differently – and were usually on the same page.
Bauza told BoardGameWire, "He was working at Asmodee, and he was not really happy with the job because he [was having] no impact on the project.
"And then we discovered a little game on Kickstarter, Regicide – Thomas discovered it and he sent me the rules, and he said, 'You should play this game. It's really good'.
"And I played the game. And I played it again and again with friends at the workspace. And I told him 'Yeah, the game is really, really great. Which studio of Asmodee will publish it?
"And he told me 'No one, no one wants to do this game', and I said 'Oh they are silly, the game is really strong. If nobody publishes this game we should do it together, because it's a card game – it's not so hard to publish'.
And he said, 'Oh, you're serious. Yeah, we can do that. I'm sending my resignation today. And we are working on this project tomorrow.'
"He resigned and we contacted the designer from Regicide, and we didn't find the working deal, unfortunately.
"But Thomas already resigned, so we said, 'well, let's make a new company, and we will find some other game to publish on the way'.
And so, in June 2022, PlayPunk was born. Bauza said the fledgling studio found its first game to sign at the Essen game fair four months later, during a meeting with Ethnos and Libertalia designer Paolo Mori.
Bauza and Provoost were keen to sign the newly-designed game on the spot, but Mori had a prototype out with several other publishers and said he had to wait for their responses. That Christmas, however, he delivered PlayPunk a gift by calling to say that if they wanted to make it, the game was theirs.
Bauza said, "It's always very exciting when you start, you know – it's just like designing a game, when you have the first idea and you make the first prototype.
"It's always the best part because it's exciting, it's new and you're feeling there's something going."
PlayPunk is attempting to fill a gap in the market that has been created by the rampant success of the modern board games industry.
Despite increasing numbers of publishers putting out more and more games each year, Bauza feels that plenty of great games are being overlooked – and some are not being done justice given the pressures staff are under at smaller-scale publishers.
He said, "Usually people working in a publishing company, they are loving games.
"Loving games is a thing, and to be able to improve games is a different thing – it's really a difficult skill to know how to tune, or to observe players how they react to the rules or handling the component and everything."
Bauza believes that within smaller publishers there is a tendency for in-house developers to only play a handful of times before having to move on to the next project.
He said, "You can never playtest too much. I think it's the biggest lesson. You have to play and play, and play the game with different audiences, and always try to improve.
"And usually a lot of publishers I work with, there are a lot of projects and lots of people involved and they don't have really the time to play the game a lot because they have to work with the factories, with the artists – and usually they don't play the game enough, I think.
"And I think it's the big missing part in many publishers. Not all publishers of course, but lots of publishers just don't take the time to play and play and playtest a lot.
"And obviously it's the part we like the most, with Thomas, so we're playing the game all day long to be sure we can… there's always some space to improve, it could be the game design, it could be the illustration, it could be the components and we want to play and play and play it again, always."
He added, "I think the industry is growing with but we still miss out on game designers working inside the publisher on other games.
"[Developers will say] 'Yeah I love the game, we can do that, that and that', and play the game maybe two times, and then he is going on to the next project.
"I think we miss in the publishing companies some experts on game design, some guys with a lot of gaming culture and a lot of experience.
"We can say, 'Okay, I played the game 20 time, and my feeling is I think we can we can improve this part or this part'. And it's really missing I think in the in the in the industry right now.
"So we need old designers like me starting maybe to work in younger publishing companies to add this experience in this gaming culture.
"I've worked on board games for [a long time] and I know that it's very difficult to make a good game, because I've tried many times – and sometimes succeeded.
"And a lot of time I failed, so I know it's hard. And I think people need to be okay with that. It's hard to make an excellent game, and it's a lot of work – it's not just 'oh, it's fun, let's make the game, let's sign it and let's publish it next month'. It's usually not the good way to make your excellent game, I think."
He said, "Sometimes we play a good game that we had the feeling could have been great, and not only good, you know? But sometimes something is missing – usually it is the fine tuning of the game design or something, it's the components or sometimes it's the UI.
"And we have this kind of frustration, because the game is really good – but the final project is just good. And you want it to be awesome.
"So we want to try that, and I say try because like others we will make mistakes, for sure. But yeah, we want to find good games and make them really great games."
PlayPunk's first game – the design from Paolo Mori and co-designer Remo Conzadori, will be "devilishly clever" family game Captain Flip, which is expected to hit retail in the first quarter of next year.
The company is also working on an "expert game" for either two or four player designed by Gregory Grard and Mathieu Roussel, which is earmarked for a release at next year's Essen Spiel in October.
Bauza said, "When Paulo explained the rules, we already knew that we wanted to make the game because when he started to pitch the game, we were like, 'Oh, yes, that's clever. I want to play it.'
"So again it's those kinds of spark and those kinds of feeling we are looking for – something that when you first heard of it, you say 'oh, that makes sense, obviously that's a good idea'."
He added, "We will focus on family and connoisseurs games. We don't want to make children's games because I think it's really different, and we don't want to make your very hardcore games because we are not the best for that.
"Again, it's about gaming culture, it's not the kind of game we are really fond of – so we want to publish the game we want to play.
"…but we don't have really a publishing line. We just want to play a prototype, look at each other, and say, 'Okay, this game is really good. We want to do it'. And this part is is not happening very often.
"But for our two first games we had at the same time, we just looked at each other and said, 'Okay, we want to do this game. This game is really good… I want to make it I want to play it again, and maybe right now'. So obviously it's the kind of feeling you're looking for, I think."
PlayPunk is currently a four-strong operation, having brought in project manager Gabriel Durnerin and graphic designer Alexis Vanmeerbeeck on a freelance basis.
The company has signed a global distribution deal with Provoost's old employer Asmodee – a huge leg-up for a brand new publisher, but perhaps no surprise given the pair's experience and links within the industry.
Bauza said, "When [Thomas quit Asmodee], it was kind of in the deal. 'Okay, you quit very quickly, but you have to show us the first game of your of your new company'."
He added, " We are a 'false' new publisher maybe – everybody of course in the industry know our names and our track record.
"So obviously it's easier to open some doors and to see distributors and to have meetings with a winning designer, of course it's simpler for us."